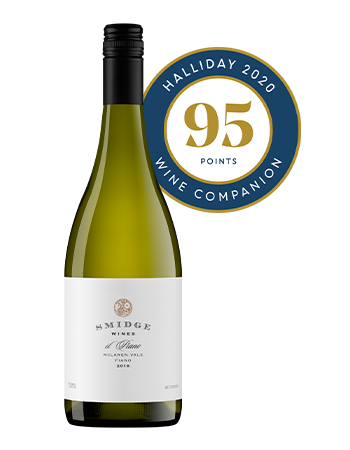 Il Piano McLaren Vale Fiano 2020
Fiano is a white Italian wine grape variety originating from southern Italy. It thrives in hot, dry climates and it's ability to handle heat spikes make it environmentally friendly variety as its need for water is low. Fiano's also retain acidity in the heat, which means they can be made into a beautifully balanced, refreshing wine.
2018 was warm and dry, although the cool nights were a godsend. This Il Piano Fiano by Smidge Wines is from a young block in the southeastern foothills of McLaren Vale. With excellent acid retention, this fruit was hand-picked in pristine condition and required no adjustment at the winery. 10% destemmed with skin contact for one month, balance whole bunch pressed with 35% barrel fermented and 55% in stainless steel. All wild fermentation, no malolactic fermentation. Blended and bottled after 4 months.
"Hand-picked, 90% whole-bunch pressed, 10% skin contact for 30 days. 35% barrel-fermented. No additions, all fermented wild. It's high on both personality and flavour. Indeed it's a ripper white wine. It tastes of tropical fruit, crystallised citrus and custard powder, and has honeysuckle notes laid on too. So much is going on, and it then seals the deal on the finish."
- Campbell Mattinson 95/100, Halliday Australian Wine Companion 2020
Il Piano McLaren Vale Fiano 2018 has been rated 95 points in the 2020 James Halliday Australian Wine Companion.
The White Labels Wines from Smidge Wines is available for sale exclusively direct from the winemaker online or at our Cellar Door.