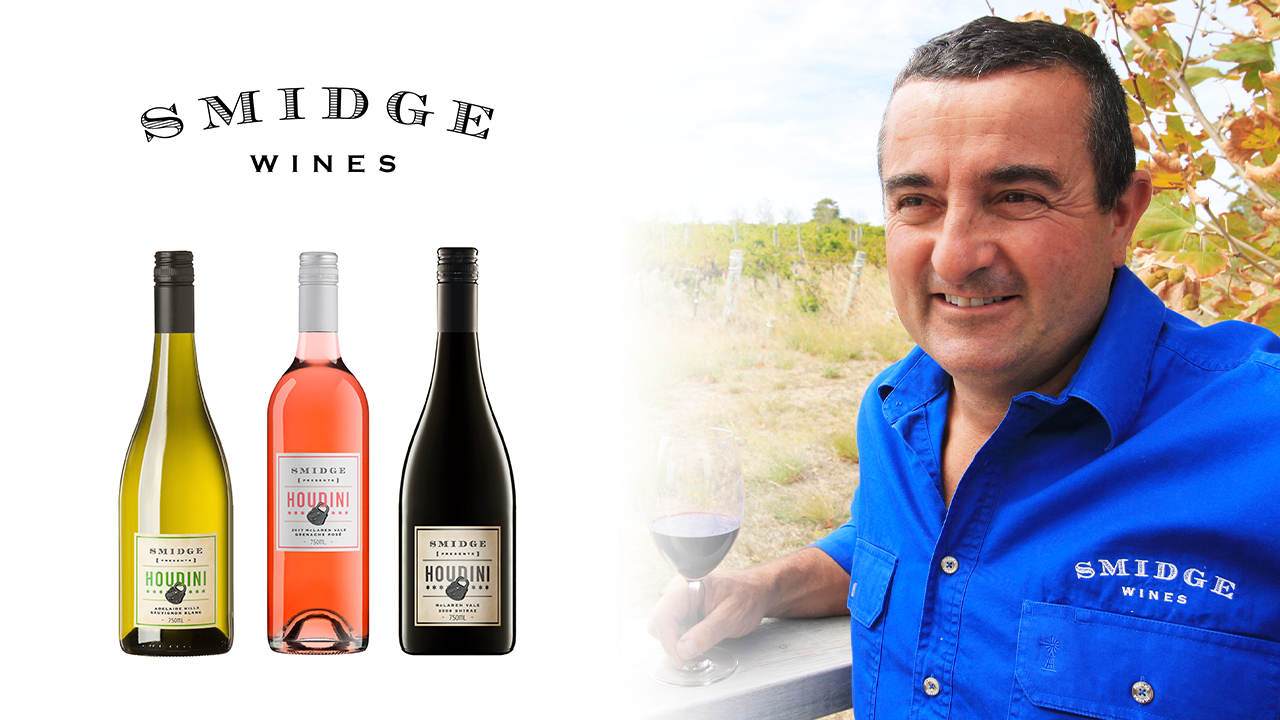 Wine guaranteed to disappear
Houdini is so popular it has its own disappearing act, but that doesn't explain its name. This quality, affordable Smidge Wines label owes its identity to reasons closer to home.
Smidge is a family-run winery, owners Matt Wenk and Trish Callaghan have a fondness for naming their wines after family members or events that have shaped their lives.
"Houdini" was the nickname they gave to their eldest daughter Eliza when, as a toddler, she got into an alarming habit of running off and disappearing. The original Houdini, of course, built his reputation as an escape artist, but he famously wowed New York audiences by making an elephant vanish on stage.
The secrets to the Houdini wines' vanishing act is their attractive price and are beautifully crafted making them perfect for drinking now or cellaring for up to 7-8 years.
Typically straight varietals, the Houdini range consists of easy-drinking options for every palate. In the reds, there's a Shiraz and an Estate Cabernet sauvignon from McLaren Vale. This wonderful wine-growing area of South Australia also produces the Grenache Rosé and Grenache Carignan. The final wine of the Houdini range is a Sauvignon blanc that comes from a vineyard in the Southern area of Kuitpo in the Adelaide Hills, just 20 minutes east of McLaren Vale.
Matt says of his Houdini range, "I put my heart and soul into all of my wines, and the Houdini range are soft, easy-drinking styles. If that's what you're after, then you won't be disappointed. The Houdini range is great for "Monday-to-Friday" or that special occasion."
Matt says the vineyard sources in the Houdini red wines are the same as those used for the more expensive wines in the Smidge range and are placed in French oak barrels for 10-18 months.
"Oak is a natural product and each barrel matures differently," he says. "It's the way they mature over time that determines the part of the portfolio that they will be destined for. Six months post vintage, I taste each barrel blind and classify them accordingly. The lighter, softer wines are perfect for the Houdini range, while those with more complexity and structure will be used on one of our other ranges of the White Labels, Pedra Branca, S and Magic Dirts."