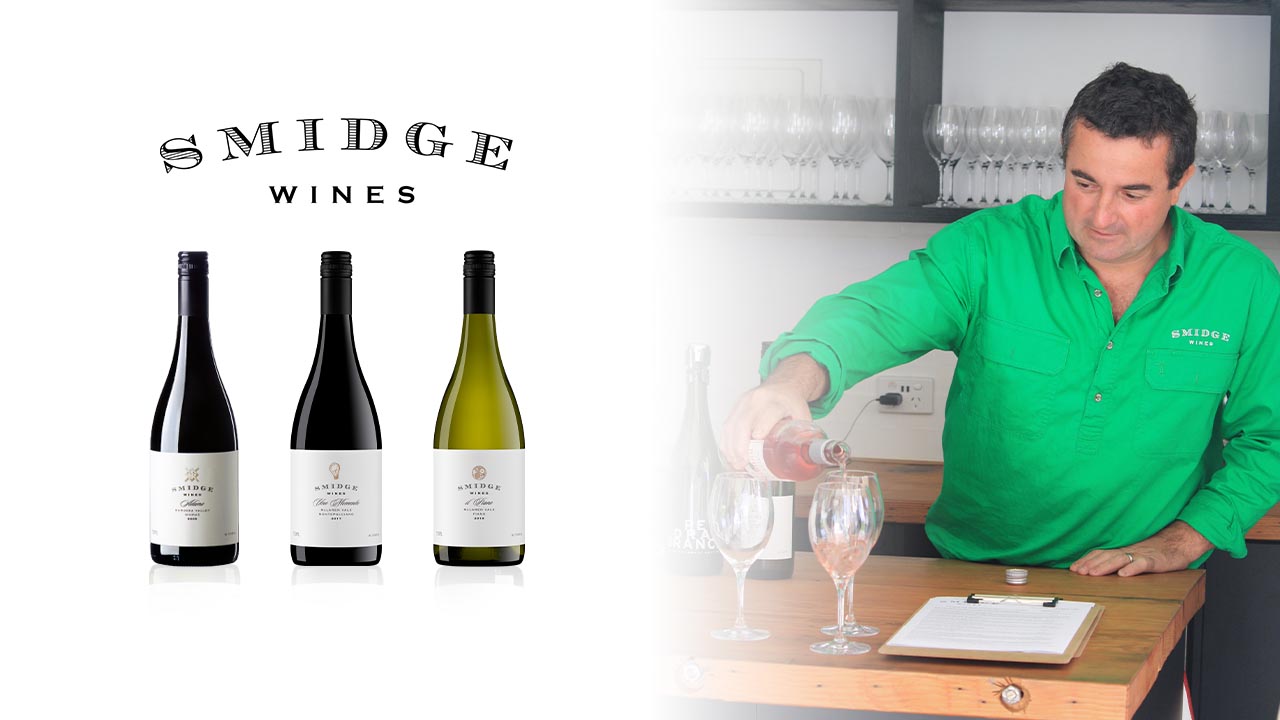 Every wine tells a story
The importance of family and friends in the philosophy of Smidge Wines is best illustrated with its "White Label" range of wines.
The White Label wines reflect the varietal characters of fruits from their regions and carry unique names in honour the people and events that have made Smidge Wines the success that it has become today.
It's most famous White Label is "The Ging", a superb Shiraz from McLaren Vale that was named after the grandfather of Trish Callaghan, co-owner of Smidge Wines and wife of its winemaker Matt Wenk.
Gordon Ingham ("Ging" for short) was the patriarch of Trish's family, and he was never seen without his fedora, which is the featured illustration on the label of The Ging.
Says Matt; "Gordon was deeply involved in the lives of his family and he had 11 grandchildren. He loved taking them to the Royal Show. He was a true gentleman, and there was a lot of love and respect for him. I take great pride in this Shiraz, especially because it honours Gordon's name."
Six wines are available in the White Label range. A step up on the softer, fruit driven easier-drinking Houdini wines, the White Label range covers a range of varieties, both white and red, with more complexity and structure but crafted and shaped as only a world-class winemaker can.
Across the White Label range, you'll find a pigeon pair from the Adelaide Hills, "The GrüVe" Grüner veltliner, a fresh aromatic white and "The Gutsy" Adelaide Hills, aptly named after the couple's son, Oscar, for his prowess on the football field. "The Adamo" Shiraz from the Barossa Valley and a McLaren Vale quartet – "The Ging" Shiraz, a Fiano called "Il Piano", "La Grenouille" Cabernet sauvignon (now sold out) and a Montepulciano called "Uno Momento".
Says Matt; "Our White Label wines all carry their own names to show their true varietal characters and the story that inspired their making. They are a true representation of their region. I believe they over-deliver, and any consumer won't be disappointed."
The Montepulciano called Uno Momento holds a special place in Matt's heart. Its name derives from a single moment that helped shape the future of Smidge Wines.
Matt takes up the story. "I wanted to find another red varietal from McLaren Vale late in the 2017 season. I visited a grower and began tasting through a couple of blocks, with particular interest in the Montepulciano. Upon tasting I thought "hold on a moment! This fruit is fantastic. The grower said he hadn't sold any of it – so on went the lightbulb and I bought the lot. The rest, as they say, is history."