Why Socially Smidge?
We asked our customers, family and friends what they wanted from of their favourite wineries. We listened, we discussed, we tasted some wine, and found ourselves creating Socially Smidge.
To us Socially Smidge is not just a wine community, it's about sharing our story of winemaking and showing you what a love of wine means to us and how it brings us together.

Beyond a cellar door or online checkout Socially Smidge has been created to give an annual offer of selected wines and experiences. Of course, wine is essential and we start with 6 deliveries of 3 x 750ml selected for the season by our winemaker and founder Matt Wenk. Throughout the year Matt sends our Socially Smidge community regular updates about what is happening in the winery from vintage to bottling, tasting notes and his views on just about anything on wine from around the world – from cellar house rules to perfume etiquette.
In our commitment to 'keep it real' we've deconstructed our Blind Tasting experiences featured with Tourism SA and produced a kit to have at home with friends. Our members will be able to share the insight and complexities of making wine and have some fun while tasting - stretching your imagination and wine vocabulary by sampling what is inside the glass first...instead of last – connecting to the label and story in a way that can be both enjoyable and challenging!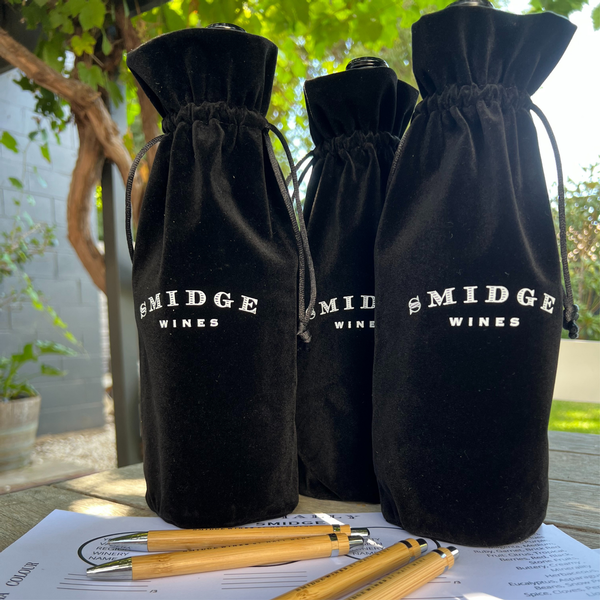 Socially Smidge members will also get the opportunity to invite someone to share our famous Barrel Tastings with founder and winemaker Matt Wenk. An experience unlike any other, in groups of up to 8 (yes you can invite more friends!) Matt will walk you through selected barrels showing samples at different stages of development across vintages, vineyards and varieties sharing their journey from season, the vineyard, barrel and ultimately bottle.

We understand our members enjoy the winemaking journey as much as sharing a glass with friends and in keeping with this our community will enjoy priority access to limited events across Australia including wine tastings, vintage releases, cellar door days and annual private dinners hosted by Matt with carefully selected food and wine pairings at partner restaurants around Australia.
We have created 3 Socially Smidge experiences within our Smidge community to choose from that would make a perfect gift for someone special – or a treat for yourself.

Socially Smidge Houdini
We unlock the Smidge secret and share a delicious introduction to wines made by Matt Wenk. This range is the foundation on which the Smidge experience is built and showcase the pedigree and style of Matt's wines.
- 6 deliveries of 3 x 750ml (18 bottles)
- 2 x Blind Tasting Kits
- Annual membership to the Socially Smidge Community
- Priority invitations to annual events
Online / Cellar Door:$1256 - Buy Here
The White Label - The Story Book
The Socially Smidge White Label is the core of what it is to be Smidge. These carefully chosen single varietal wines tell Matt's journey. The selected vineyards matched with varieties vintage and vinification tell us as much of Matt the Man as the wine labels themselves. The selected icons, names and backstories make a delicious reference to moments of inspiration in the Founders story from kissing frogs to dancing like no one is watching.
- 6 deliveries of 3 x 750ml (18 bottles) from our White label range
- 2 x Blind Tasting Kits
- Annual membership to the Socially Smidge Community
- Priority invitations to annual events
Online / Cellar Door: $1490 - Buy Here


Winemakers Choice
Our Winemakers Choice is a curated collection that showcases all aspects of Matt's international winemaking and experience. Wines are chosen from the White Label range, Pedra Branca single barrel series and a selection of current release flagship wines including the coveted Magic Dirt series. Here Matt has selected one clone, one trellis style, and a consistent oak regime across the range with the only difference between each wine being 'the Magic Dirt' on which they grown.
- 6 deliveries of 3 x 750ml (18 bottles)
- 2 x Blind Tasting Kit
- Annual membership to the Socially Smidge Community
- Priority invitations to annual events
Online / Cellar Door: $2,265 - Buy Here

*All Socially Smidge deliveries are made carbon neutral