---

Meet Matt Wenk
Learn about one of Australia's most acclaimed winemakers. Matt's career has included the heights of success as chief winemaker of Two Hands, one of Australia's most successful wineries, through to establishing his own highly awarded independent label with a philosophy of berry to bottle.
---
A love of wine came to Matt Wenk at an early age.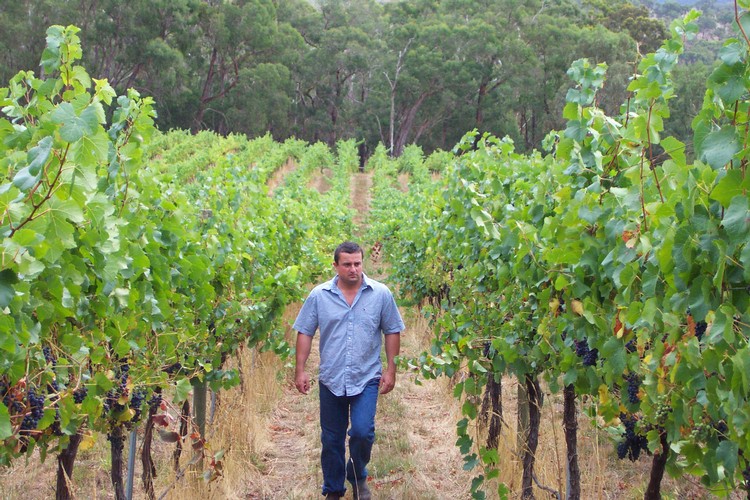 Surrounded by the colourful, passionate cuisine of his Spanish grandmother, Matt's childhood was dominated by food, wine and entertaining family and friends.
These early life experiences became the inspiration for Smidge Wines, colourfully named to capture Matt's belief in creating unique, memorable experiences with boutique wine. A globally-acclaimed winemaker, Matt turned his back on a factory philosophy of mass production to work intimately with the finest fruit to produce incomparable wines.
With wife and business partner Trish, he established Smidge Wines just five years ago and has won global acclaim for their small-batch, barrel-selected wines.
Matthew says of his inspiration for Smidge Wines, "My idea was to source fruit from distinguished vineyard sites and transform this fruit into exceptional examples of the varieties. Now several years on, production is small but the quality is extremely high."
He says Smidge Wines has a determination to remain one of a kind, offering exclusive wines that show exceptional varietal and regional definition.

"We row our own boat," says Matt.
That is never truer than in the naming of their selection.
Smidge boasts the Houdini Series, which is so popular can do a disappearing act! Others include the signature S series Barossa Shiraz, which has an 'S' engraved into the bottle, the White Label series showcasing varietal vintages - each with a quirky name, and the sublime Magic Dirt, the peak of the range showcasing some of South Australia's best shiraz.
Smidge Wines doesn't spend its time chasing wine medals, but it did pick up a prestigious accolade at the end of 2017, winning an Adelaide Hills Show medal for its 2016 Gruner Veltliner, a variety similar to a Riesling. Smidge Wines was also awarded five black stars from the James Halliday Australian Wine Companion in 2016. In 2017 this was upgraded to five red stars - a rating they still hold today.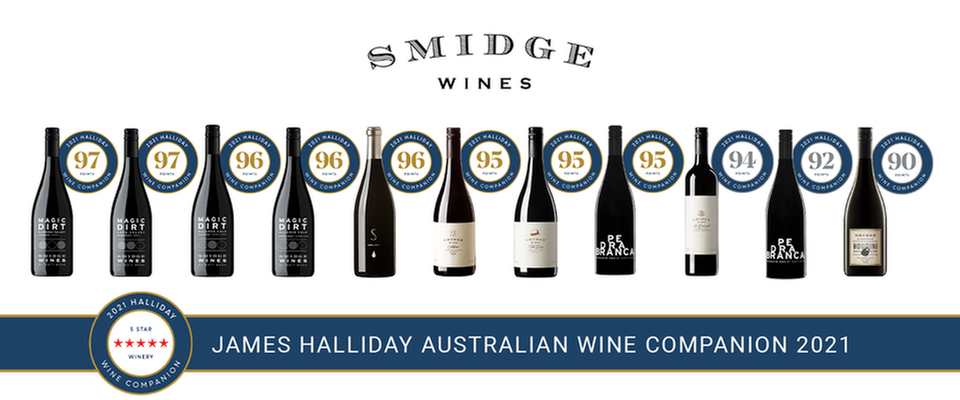 "We never want to emulate anyone else, or do what they're doing," says Matt. "We have our own philosophies and that shows through in our wine."
These philosophies were honed as chief winemaker at Two Hands in South Australia's Barossa Valley and his work with vintages of California and France.
At Two Hands, Matt was the company's first employee and instrumental in growing exports from 20 to 1,200+ tons a year to 20 countries.
"I'm proud of our many successes," he says. These included consistent ratings of 90+ for wines in publications such as Wine Advocate, International Wine Cellar and Halliday's Australian Wine Companion.
After 11 years at Two Hands, says Matt, it was time to "hang up the boots and focus on Smidge Wines and consultancy services". But he never stops learning and takes regular study tours to America and Europe.
This passion for the craft is widely recognised by his peers. He is the only winemaker in the world to achieve 10 successive years in the Wine Spectator Top 100. On four occasions, he was listed in the top 10.
A cavalcade of global companies seek his advice. Hotel chains JW Marriott and Sofitel, plus Korean Airlines, are among the brands who have sought out Matt for guidance on the best selections of wine to provide to their customers.
Matt's commercial experience extends to the lucrative Chinese market. For the past five years, he has regularly travelled to multiple regions of China to meet customers and fulfil consulting engagements.
Smidge has a Chinese language website to enhance its exports to China and also sells wine to Singapore, South Korea and Canada.
Matt completed a degree in oenology, with honours in yeast microbiology, at the South Australia's Roseworthy Agricultural College in 1998.
Since then, he has worked with more than 30 grape varieties, ranging from Shiraz, Cabernet Sauvignon, Chardonnay and Grenache to lesser known Italian, Portuguese and Georgian varieties.