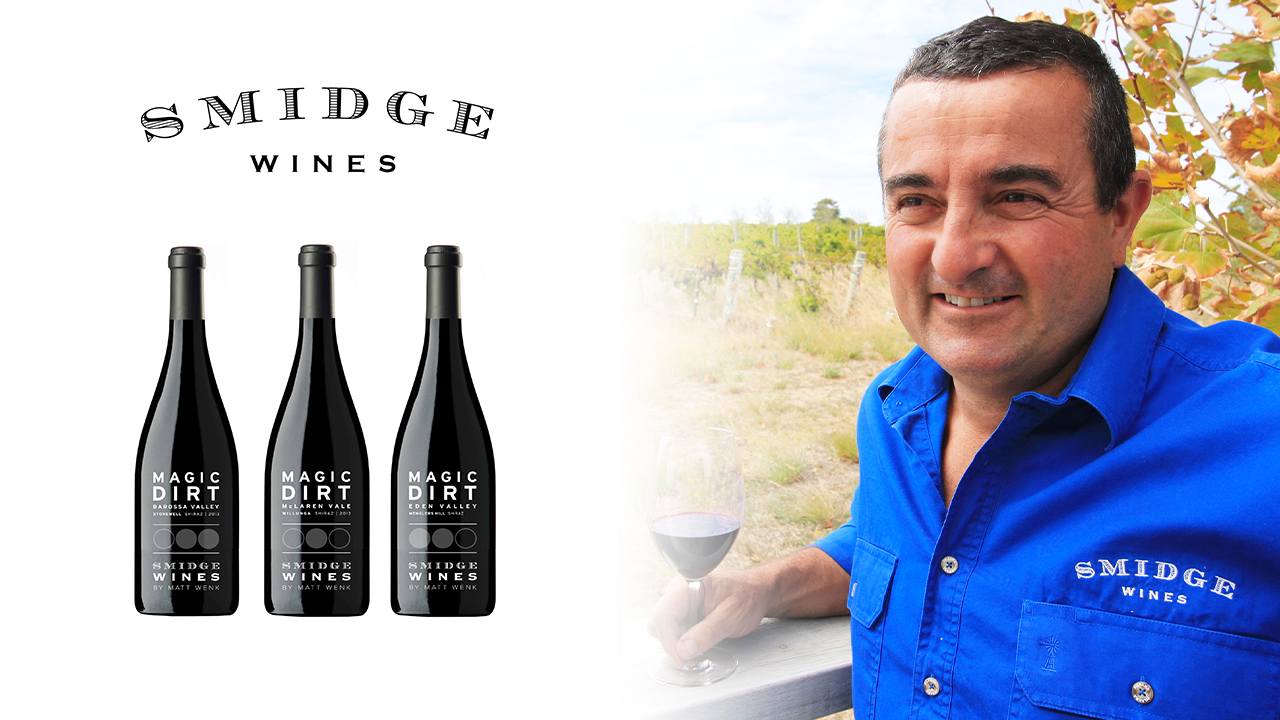 An elite Australian wine
There is something magical about Magic Dirt, one of Australia's most celebrated Shiraz wines. Its secret lies in the soils of the Barossa Valley and with the wizardry of its maker, Matt Wenk.
The award-winning Magic Dirt is the star of the Smidge Wines range and reflects what the French call "terroir" – a word that holistically brings together the soil, the sun, the wind, the rain, the slope, ultimately anything that influences a vine's specific growth habitats, in particular the influences of the natural environment.
These factors deliver some amazing parcels of fruit and together with expert winemaking, nurture the characteristics that consistently places Magic Dirt among the elite of Australia's wines.
Magic Dirt has been created to capture the unique attributes of four subregions of the Barossa Valley – Moppa, Stonewell, Greenock, Penrice, and one from Eden Valley being Menglers Hill.
Smidge owner and chief winemaker Matt Wenk works with a number of vineyards, although those selected for the Magic Dirt project have similar soils, are planted with the same Shiraz clone "1654" and the vines are trained on a single cordon trellis. This means that the variability is minimised, letting the subregional location of each block do the talking.
Matt explains his approach. "I'd been making Barossa Shiraz since 2004 and had taken fruit from the different subregions. After five years, I started noticing great consistency across the different vineyards, which gave me a great idea and Magic Dirt was born with the 2009 vintage – I'd select one barrel from each location that best reflected where it was from."
This means Magic Dirt of the same vintage will vary in taste in ever-so-subtle ways, reflecting the differences of soil and micro-climate in each subregion that is selected.
Says Matt, "The "terroir" stars need to align, or else it may not be possible to pick up the nuances of each subregion. I have had vintages of great quality, such as 2012 and although the wine from some barrels are amazing, their aroma and flavour profiles just don't reflect where they're from and that vineyard won't get selected.
"The Magic Dirts are complex, long and flavoursome wines," he adds. "With one barrel from each vineyard, there's a scarcity factor that adds to the wonderful experience. Our customers wait for each release because they know it's special."
Matt is now extending the Magic Dirt experience to embrace McLaren Vale vineyards that grow Shiraz using the same methods as those in the Barossa Valley, including his own block in Willunga.