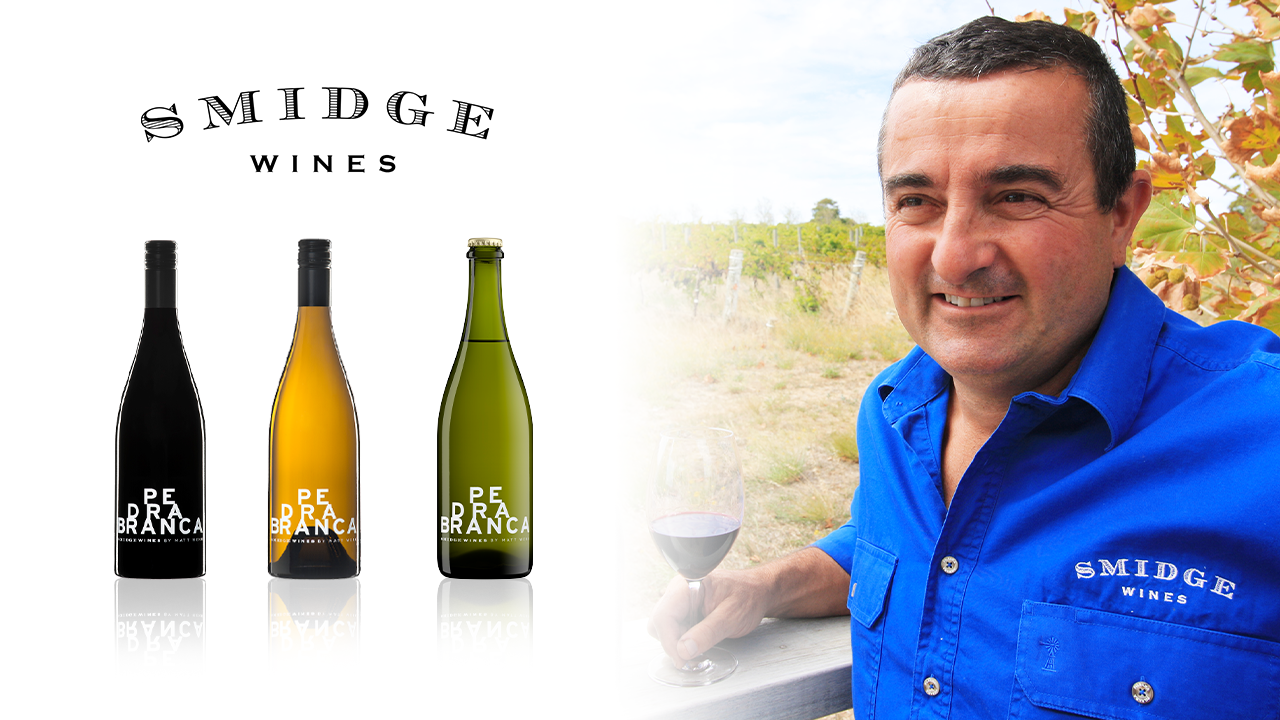 Wine that is a force of nature
Spectacular, unbridled forces of nature inspired the range of Smidge Wines called Pedra Branca – a rocky islet some 25km off the coast of Tasmania in the Southern Ocean.
Pedra Branca wines push the boundaries of what is possible with alternative varietals grown in South Australia, or they embrace alternative winemaking processes using well-known varietals such as Sauvignon Blanc or Grenache.
Chief winemaker and owner of Smidge, Matt Wenk, says: "Nature gives us something so pure that there are no additions to these wines. Pedra Branca wines are the vineyard speaking, and as the winemaker I simply nurture them."
The name is inspired by the stunning, rugged Pedra Branca rock where surfers from around the world travel to catch big waves.
A keen surfer himself, Matt first saw Pedra Branca on a surfing documentary hosted by Ross Clarke-Jones and Tom Carroll. "I was struck by the power of the waves as they broke in this remote environment" he says. "In my own way, I want the Pedra Branca wines to reflect the equivalent forces of nature seen each year vintage to vintage."
The typography on each bottle has been designed to represent the shape of Pedra Branca, which is Portuguese for "white rock".
Although the wines vary from year to year, there are currently three wines – two Sauvignons blancs and a Tempranillo – from the Adelaide Hills and a Saperavi and Grenache have been created with fruit from McLaren Vale.
Says Matt, "This range has evolved as a project series in which I endeavour to extract the very best from the season, the vineyard, the fruit. Some attempts have never seen the light of day, but as the vintages have passed I've been able to push the boundaries more consistently – and this is what the Pedra Branca label is all about."
Matt says he enjoys "playing around with different techniques and varieties and when the stars align, as they did, for example, with the current 2016 Tempranillo, I just can't ignore it. Unfortunately, the vineyard that produced those grapes doesn't exist anymore".
One Sauvignon blanc in the range is fermented in a 100% fumé style, using brand new tight grained French barrique and is unlike those you'll find elsewhere, offering a herbal, tropical, oyster shell, yeasty/cashew experience that's smooth and easy to drink. The second is a Petillant naturel, or Pet Nat for short, meaning natural sparkling. Fermented with indiginous yeast and no additions and then bottled close to the end of fermentation and allowed to finish. This wine is a whirlwind of flavours and textures. Citrus, tropical fruits, ginger, cider, acid, bubbles...
"When the stars align", says Matt, "I just think 'wow'. An excellent example is the current Grenache, which comes from Seaview, a sub-region of the McLaren Vale. Hand picked, no additions, wild ferment, 10% whole bunches...although a fine, medium bodied, pretty wine, there is alot going on."