Smidge Wines Client for life program offers a range of events that can help you stand out and continue to build meaningful relationships.
While all experiences can be customised to meet your business requirements we have the following structured events.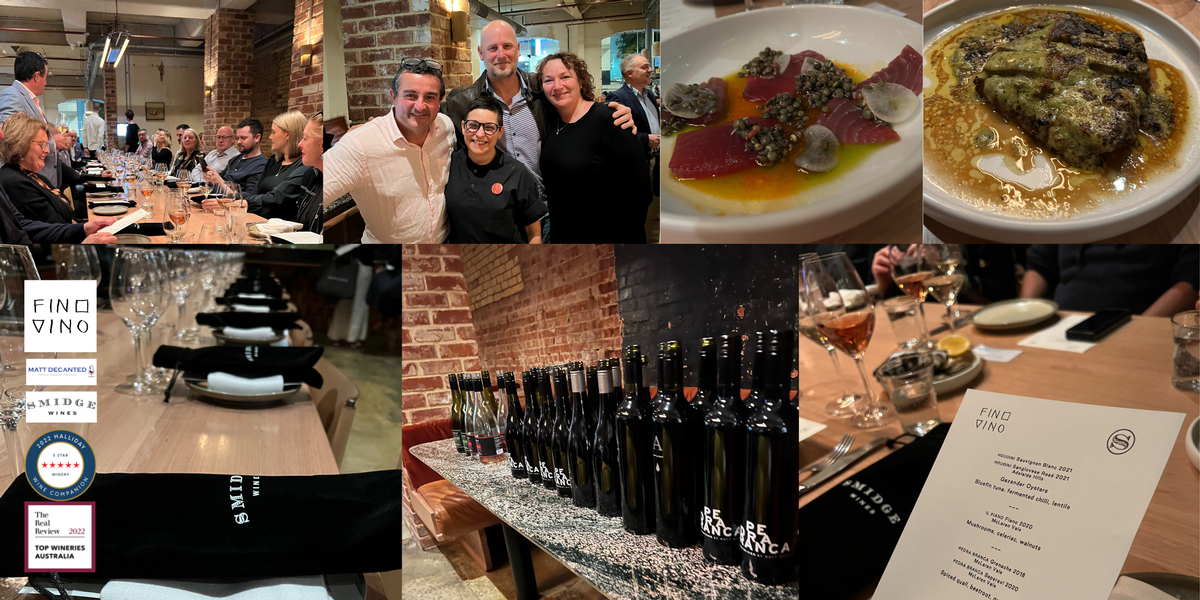 Fino Vino - 22 PAX - $270* per person
Located in the heart of the CBD and curated under the watchful eye of 2022 Gourmet Traveller Restaurant Personality of the Year, you and your clients will enjoy a 3 hour experience of food and wines in a unique and engaging way. Each course is matched with a Smidge Wine and is described by the Fino Vino team, with Smidge founder and winemaker Matt giving a brief but insightful introduction about the wines, winemaking highlights, while answering any questions guests may have
Before dinner, and again before your departure, there is a short and fun wine wine options game that is helpful in uniting guests and setting a lovely tone to your evening, and completing the theme bringing the evening to a close.

Bar Lune - 30-60 PAX - $165 per person - 3 hours
10 minutes east of the city in a private function area you have a choice of a sit down dinner or stand up event for upto 60 guests. Food is prepared by former Mt Lofty House Chef Sam Worrall-Thompson and is carefully paired with a selection for upto 6 different smidge wines.
Like all Smidge events, Founder and winemaker Matt Wenk will giving a brief introduction to each of the wines served, sharing stories about its heritage, and winemaking and often some unknown and fun stories along the way.
As your guest arrive they will be given a mystery wine to help get the conversations started, and again before and bringing the evening to a close.

The Lord Lyndoch - 12 Pax TBA per person
As one of Smidge wines selected regions, the Barossa Valley is an iconic destination for Australian wine.
Situated in the heart of the picturesque Barossa, the Lord Lyndoch is the perfect place to appreciate mouth watering foods paired with delicious premium wines.
Choose between 3 or 5 course options, and Smidge's own options game to help engage your guests from arrival to departure.
Bus transport can be arranged subject to dates and availability.

Barrel Shed Experience - 20 PAX - POA
Hosted inside the Smidge Barrel Shed, your guests will taste directly from the barrel at different stages and vintages to get a better understanding of the maturation and blending processes to understand the impact of terroir, weather and winemaker skill.
Each tour is customised to your relationship goals and wine preferences. Catering can also be arranged for from a food truck experience through to artisan food and wine pairing.
Transport to and from a central CBD location can be arranged subject to dates and availability.
* All pricing subject to confirmation