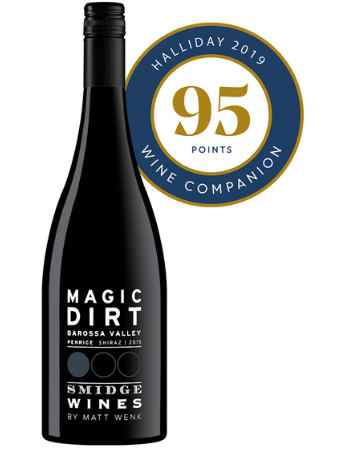 Magic Dirt Strout McLaren Vale Shiraz 2016
Magic Dirt is one of Australia's most acclaimed wines and the pinnacle of the Smidge Wines range. Its name reflects one of the great secrets of great winemaking – the quality that the terroir brings to the wine. Each vintage is inspired by the sub-regional terroir of South Australia's wine regions with all vineyards selected trellised with a single cordon, single catch wire, and planted with the clone 1654.
"Deep red clay/loam mottled with small pieces of quartz and ironstone. The wine expands on the back-palate and finish with ripe, persistent tannins. The shape of the wine in the mouth is wider than its Barossa siblings, but not as piercing. Dark chocolate makes a mark, but not to extremes."
- James Halliday Wine Companion
Magic Dirt Strout McLaren Vale Shiraz 2016 has been rated 96 points in the 2021 James Halliday Australian Wine Companion.
Magic Dirt Wines from Smidge Wines is available for sale exclusively direct from the winemaker online or at our Cellar Door.