Chicken Ragu with Organic Wholegrain Spelt Trottoloni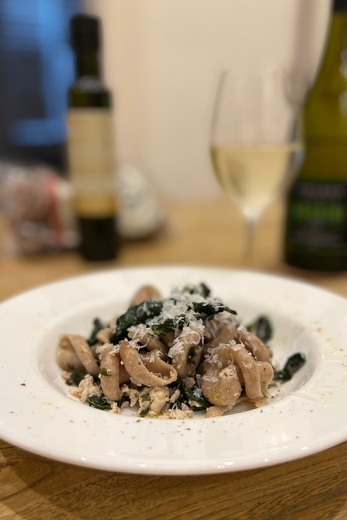 Recipe Date:
14 November 2022
Don't miss trying this quick, easy and delicious Chicken Ragu featuring Lucia's Extra Virgin Olive Oil, & L'Abruzzese Organic Spelt Trottoloni. On a week night or the weekend you won't be disappointed on this fresh and flavorsome take on an Italian classic.
Ingredients
60 ml Lucia's Extra Virgin olive oil
2 Cloves of Garlic chopped finely
500 g Free range chicken mince
250 ml Houdini Sauvignon Blanc
250 ml Warm chicken stock
1 Tsp Nutmeg
1 bunch Cavolo Nero
1 Zest and juice of 1 lemon
30 g Freshly grated parmesan
300 g L'Abruzzese Organic Wholegrain Spelt Trottoloni
Directions
Method
Gently cook 2 cloves of garlic in a healthy glug of Lucia's olive oil
Once soft, add chicken mince, increasing the temperature as required
Once the chicken is brown add the nutmeg and wine. Once reduced by half add the stock and cavolo nero.
Cook the pasta to your taste preference and instructions of the packet and be sure to retain 1/4 a cup of pasta water before discarding
In a separate bowl combine the parsley, basil, zest, juice and olive oil before combining it to the cooked pasta and chicken mix, making sure your add your saved pasta to your preferred consistency.
Serve with a generous shavings of your parmesan cheese, pepper and a drizzle of olive oil, being sure to enjoy with a glass of Houdini Sauvignon Blanc.