There's a rumour that men can be hard to buy gifts for at Christmas. But we want to challenge that. For the guy who has everything, what better than to get him bottle or three of limited quantity, handcrafted and exclusive Smidge Wines? Every bloke deserves a Smidgey Christmas. Here's our guide: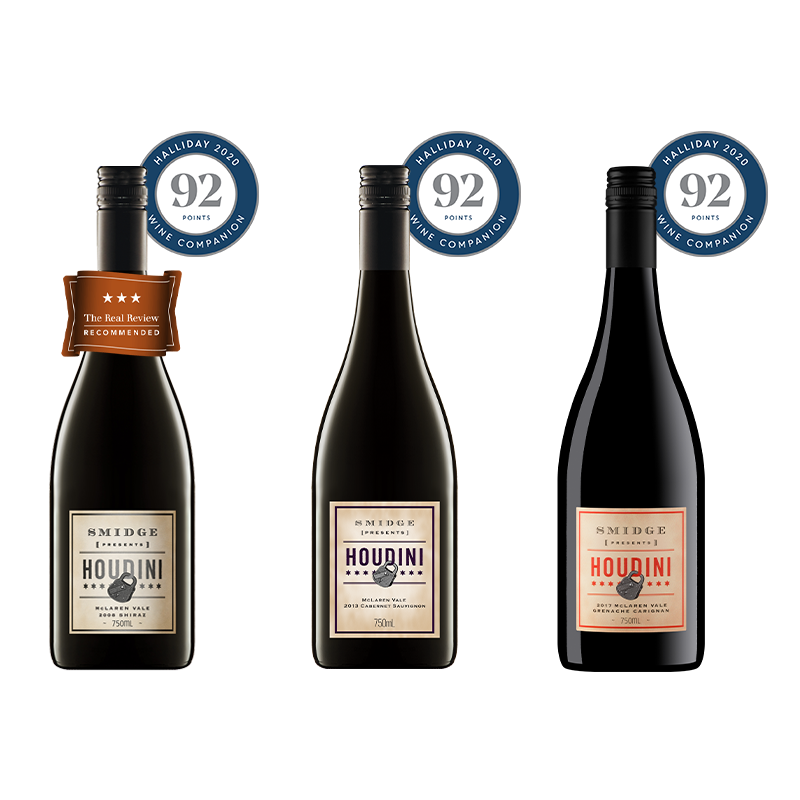 Aussie BBQ 3 Pack
$84
If the man in your life is a master of the grill, he'll love the Aussie BBQ Pack of Houdini reds, specially designed to complement any outdoor gathering. All the Houdinis in our three-pack have been reviewed as silver 92 points by the James Halliday Australian Wine Companion 2019 and include the Houdini McLaren Vale Grenache Carignan, Houdini McLaren Vale Shiraz and Houdini McLaren Vale Cabernet Sauvignon. Each pairs beautifully with the sizzle of a typical Australian barbeque.
Rutherglen Grand Muscat
$85
Nothing says Christmas more than a delicious port with a piece of Christmas cake, fresh fruit or a cheese plate. We also love a snifter of the Rutherglen Grand Muscat poured over a quality vanilla ice cream. (you're welcome!) The Rutherglen Grand Muscat was awarded a gold medal 95 points in the James Halliday Australian Wine Companion in 2019 and is like drinking a rich silk blend of complex plum pudding, burnt toffee and spice flavours. Attractively bottled to make a beautiful gift.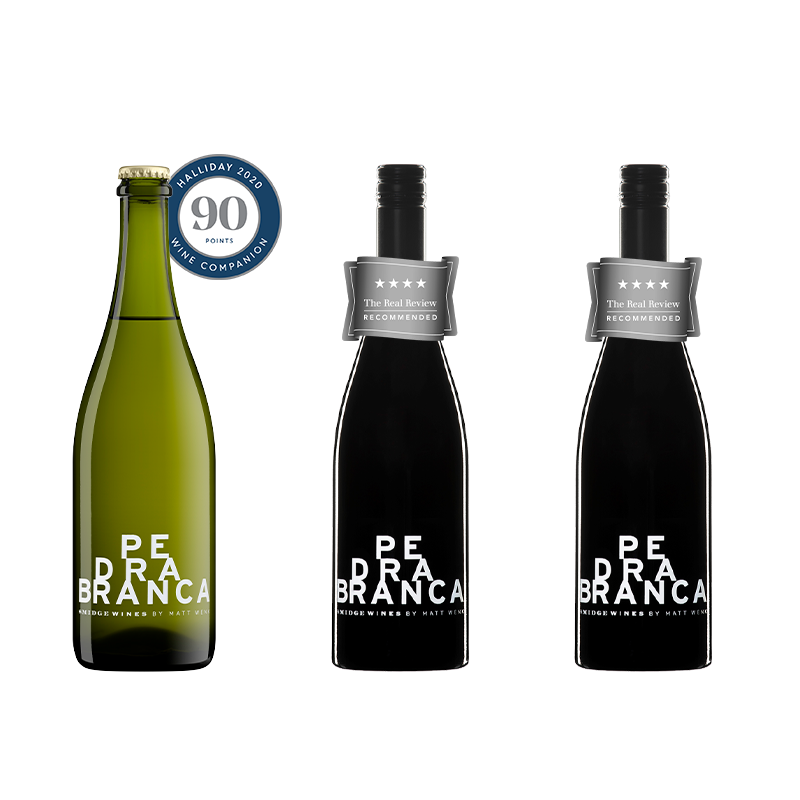 Pedra Branca Forces of Nature 3 Pack
$135
Let the man in your life know how awesome he is with our Pedra Branca three-pack that celebrates forces of nature. The pack includes two alternative varietal reds - the Pedra Branca McLaren Vale Saperavi 2018 which was rated gold with 96 points from the James Halliday Australian Wine Companion, a new limited release McLaren Vale Grenache and the unusual 'pet nat' or petillant naturel, a delightfully refreshing, natural bubbly which received a silver 90 points from Halliday.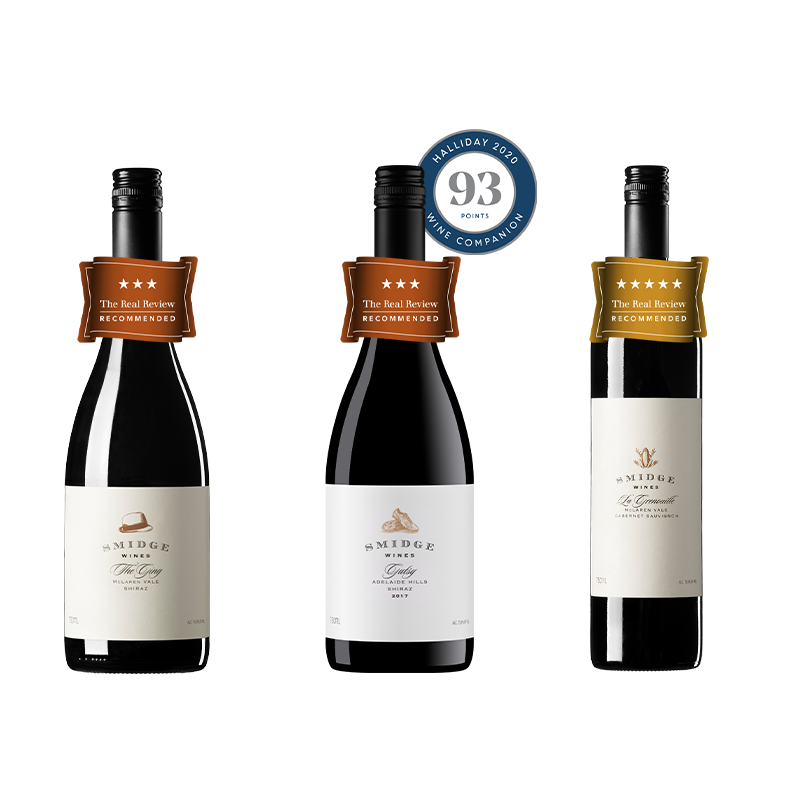 White Label Mix
$228
Create your own bespoke mix of your guy's favourite wine varieties from our White Label range. Each wine in the White Label range is distinctively named to tell a story and includes Shiraz options from the McLaren Vale, Adelaide Hills and Barossa Valley, and lesser-known varietals such as Fiano, Gruner Veltliner and Montepulciano and all have a silver or gold badge from Hallidays.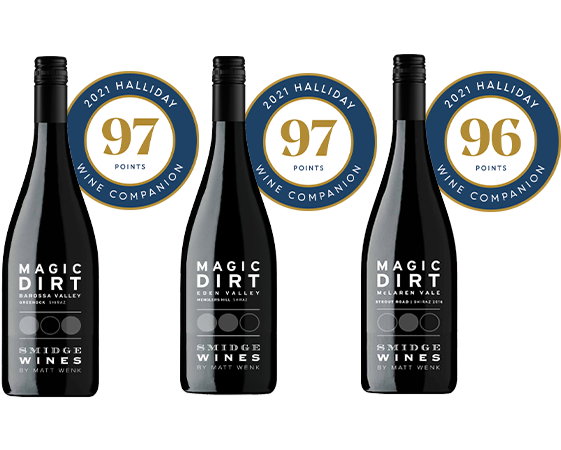 Magic Dirt Exclusive Limited Edition 3 Pack
$360
Magic Dirt represents the pinnacle of Smidge Wines range and the extraordinary skill of Matt Wenk as a shiraz winemaker. Each vintage is inspired by the subregional terroir of South Australia's wine regions. Every vineyard selected is trellised with a single cordon, single catch wire, and planted with the clone 1654.

Each shiraz has been awarded gold by the James Halliday Australian Wine Companion. Available after December 7. Extremely limited quantities make these wines highly sought after as they are quickly sold out.
Christmas Order Key Dates
Our last day for Christmas wine orders is SUNDAY DECEMBER 13. With delivery companies hyper-busy because of Covid, we want to make sure we give all orders as much time as possible to make it safely to you. So much If you'd like to enjoy a glass or two of Smidge Wines on Christmas Day or have been meaning to order some bottles for gifts, please don't delay.
Join S Club for Christmas
If your Christmas orders total six or more bottles of wine, why not join S Club yourself and save on your wine? It's available for orders even once a year and will ensure you get free delivery as well as a discount on your wine, but order more frequently and you get even more perks. S Club benefits include access to member-only events, first access to winemaker dinners and with bigger orders, bonus wines.
Christmas Lunch Inspiration