5 August 2020 | Matt Wenk
The story of Uno Momento Montepulciano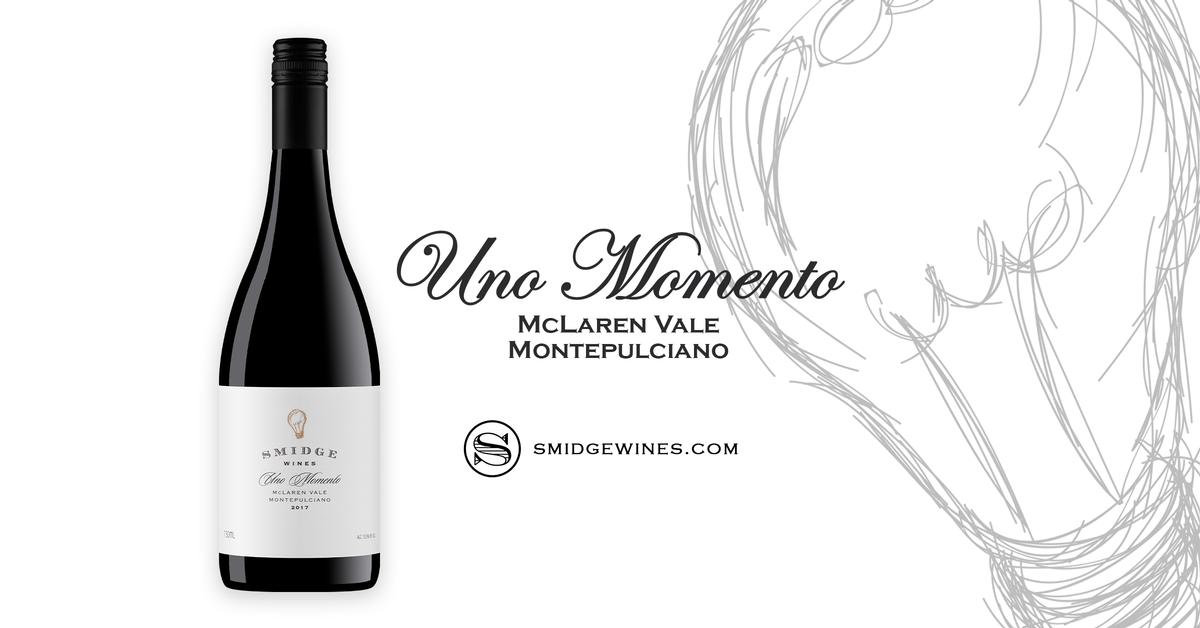 It's always a privilege to create a wine that is true to its traditions in both taste and aroma.
With the 2017 Uno Momento Montepulciano, we've captured the essence of a classical fruit from the Abruzzo region of central-eastern Italy, where the Apennine Mountains meet the Adriatic Sea and stretch for more than 1,200km along the Italian coastline.
It's beautiful, unique country and ideal for growing fruit that produces wonderful medium-weight wines for which Italy has become famous.
The closest countryside we have in Australia is McLaren Vale, which is where the fruit for our Montepulciano is grown.
We've called this Montepulciano "Uno Momento" – and there's a story behind that.
We'd been in business at Smidge Wines for a number of years, producing an increasingly popular range of predominantly Shiraz and Cabernet Sauvignon wines. Never satisfied, I thought we needed another red wine in the portfolio.
One local grower had grafted a small block to Montepulciano adjacent to a block of Shiraz that I already sourced fruit from. During the vintage of 2017, the weather was cooler, and I knew this to be very much aligned to the conditions for the grape traditionally grown at the foot of the Apennines.
One day halfway through vintage, I was out with the grower looking at the Shiraz, when I asked whether we could taste the Montepulciano. Upon tasting the fruit, I pronouned "this fruit is amazing...there is a lucky winery getting this" to which the grower replied that he hadn't sold a berry! The explosion of flavour was incredible, and suddenly the "light bulb" went off and I thought "wait a minute" – or as they say in Italy, "uno momento".
I bought the entire crop on the spot.
Two weeks later, the fruit was handpicked and the bunches de-stemmed to ensure we could retain as many whole berries as possible. It was 24 days on skins with wild fermentation and no additions. Matured in two-year-old French barriques for ten months, it spent another 18 months in bottle before release 14 months ago.
Instinct served me well as the wine has received 95 points out of 100 from the Halliday Wine Companion.
Typical of many Italian varietal red wines, it is of medium weight, with good natural acidity and food friendly structure.
When you taste it, you should leave behind any expectation of a traditional Shiraz or Pinot Noir and instead enjoy an Italian experience conjured from the McLaren Vale's red-brown over limestone soils that are very similar to those in the Apennines.
The wine is deep red with a striking perfume. You'll experience lovely red and purple fruits with subtle savoury notes, fine tannins and fresh acidity.
This 2017 Uno Momento Montepulciano, available under the Smidge White Label, is based on the Montepulciano d'Abruzzo, a wine that one can trace its wine heritage back to 1AD.
Growing this fruit has become popular in McLaren Vale because the fruit typically ripens later and suits the Mediterranean warmth while retaining natural acidity and fine structure.
A total of 150 dozen of the Uno Momento has been made, and it has proven very popular. Only a few cases are left.
While many Australians continue to love richer wines such as Shiraz, tastes are changing and often the preference is for medium-bodied, yet flavoursome food friendly wines. Our Montepulciano meets this need perfectly, and customers rarely leave our cellar door without a couple of bottles under their arms.
It's ready to drink now, or you can cellar it for a decade. If you like to pair your wine with food, I'd recommend anti-pasta, ossobuco or lamb shanks.