Welcome to our February Update:
Don't worry if you've missed one of our communications - you can always catch up on the latest information here. Cheers Matt & Trish
The Ging 2018 Tasting Note
This month's white label pack included one of our most loved wines - The Ging - McLaren Vale Shiraz.
Tasting Notes In the glass this wine stands strong, with its black core and attractive magenta rim. The nose is immediately alluring with cherries, plums and chocolate with subtle dark olive and dried herb notes. The palate has a juicy vibrant entry with red / black fruits with chocolate and graphite, all wrapped up with fine tannins and a long fleshy late palate.
Cellaring This wine can be drunk now or with careful cellaring can be enjoyed until 2035.
Viticulture 2018 was warm and dry, although the cool nights were a godsend. With careful irrigation management and canopy retention the fruit ripened evenly and was machine harvested in pristine condition. This 100% Shiraz comes from a selection of premium blocks across the region of McLaren Vale from the area known as Seaview in the north to Willunga in the south. Vine age ranges from 14 to 45 years old with a mix of both single and double cordon trellis structure. Soil types include dark sand over red clay, red/brown clay/loam mottled with quartz and ironstone and brown loam over limestone..
Vinification & Maturation Fermentation was even and on average lasted 7 days with a maximum temperature of 280C. Total average time on skins was 15 days. Upon pressing, the free run and pressings were blended to tank. After 24 hours, the wine was racked to new to 4 year old barriques and hogsheads, which were predominantly French with 5% American for 26 months, during which time malolactic fermentation occurred and the wines were racked twice. Prior to bottling the batches were blended to tank for 5 months then fined, but not filtered.
Technical
Harvested March 2018
Bottled October 2020
Alcohol 15.0%

The Story of the Ging?
Like all our white label wines there is a biographical element to our names and this is one we love sharing more than any other.
The Ging is affectionatly named after Trish's grandfather. She talks of him with a deep love and many happy childhood memories shared with cousins to which she sums up - 'He was just a legend!'
His energy, creativity and relentless pursuit towards the next idea with an unlimited devotion to his family it seemed only appropriate to name one of our most popular wines in his honor.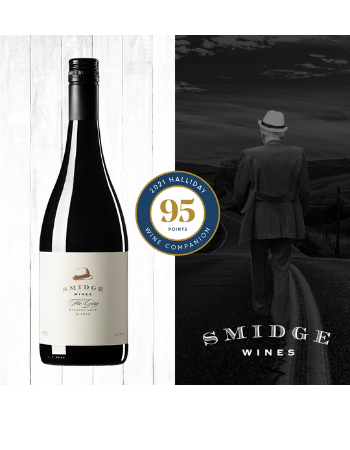 A 2021 Vintage Recap
Around much of South Australia, the ripening conditions during the 2021 vintage were excellent. In particular, the Adelaide Hills had cool, slow ripening conditions with balanced crop loads. With no heatwaves and only a handful of days over 35oC, the season was 1.2oC below the long-term average. These cool conditions during the ripening season resulted in the slow, even accumulation of sugar and flavour and a slow reduction of acidity, which led to many of us to just sit and wait. Vintage 2021 was not a rushed vintage, allowing wineries to pick when they wanted and keep on top of workloads. For Smidge, at the time of picking, flavours were excellent at low sugar levels with perfect pH/acid balances.

Contact Details
Don't forget to tell us if your contact details change - simply follow click here and email us and we'll do the rest!
Cheers!