Welcome to our May Update:
Don't worry if you've missed one of our communications - you can always catch up on the latest information here. Cheers Matt & Trish
The Ging 2018 Tasting Note
This month's white label pack included one of our most loved wines - The Ging - McLaren Vale Shiraz.
Tasting Notes In the glass this wine stands strong, with its black core and attractive magenta rim. The nose is immediately alluring with cherries, plums and chocolate with subtle dark olive and dried herb notes. The palate has a juicy vibrant entry with red / black fruits with chocolate and graphite, all wrapped up with fine tannins and a long fleshy late palate.
Cellaring This wine can be drunk now or with careful cellaring can be enjoyed until 2035.
Viticulture 2018 was warm and dry, although the cool nights were a godsend. With careful irrigation management and canopy retention the fruit ripened evenly and was machine harvested in pristine condition. This 100% Shiraz comes from a selection of premium blocks across the region of McLaren Vale from the area known as Seaview in the north to Willunga in the south. Vine age ranges from 14 to 45 years old with a mix of both single and double cordon trellis structure. Soil types include dark sand over red clay, red/brown clay/loam mottled with quartz and ironstone and brown loam over limestone..
Vinification & Maturation Fermentation was even and on average lasted 7 days with a maximum temperature of 280C. Total average time on skins was 15 days. Upon pressing, the free run and pressings were blended to tank. After 24 hours, the wine was racked to new to 4 year old barriques and hogsheads, which were predominantly French with 5% American for 26 months, during which time malolactic fermentation occurred and the wines were racked twice. Prior to bottling the batches were blended to tank for 5 months then fined, but not filtered.
Technical
Harvested March 2018
Bottled October 2020
Alcohol 15.0%

The Story of the Ging?
Like all our white label wines there is a biographical element to our names and this is one we love sharing more than any other.
The Ging is affectionatly named after Trish's grandfather. She talks of him with a deep love and many happy childhood memories shared with cousins to which she sums up - 'He was just a legend!'
His energy, creativity and relentless pursuit towards the next idea with an unlimited devotion to his family it seemed only appropriate to name one of our most popular wines in his honor.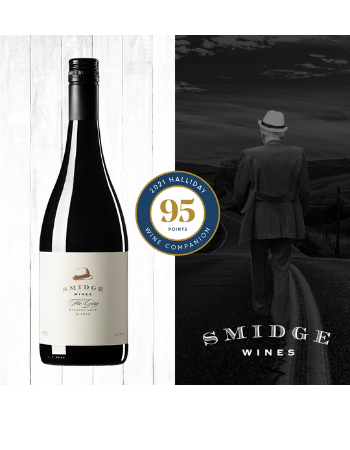 What do we mean by Vintage?
As you expect, at this stage of the year –we talk a lot about vintage – which in some English-speaking regions in the northern hemisphere (& sometimes here) is also referred to as harvest.
Some people know exactly what I am referring to, although more often than you may think, I am asked what I mean when I say 'vintage'? The question is then often followed by – has it got something to do with the year on the bottle or is that the year the grapes were grown or the year the wine was bottled?
So for the many people who have thought about these questions, but never asked I felt it might be helpful to shed some clarity on the subject.
Firstly, the vintage (or year) on the bottle does refer to when the grapes that made the wine in the bottle are picked. When Australian winemakers are referring to vintage – generally they are referring to the sleep deprived 8 or so weeks that it takes to pick and process fruit. Larger wineries will run 24 hours a day – making sure fruit is picked and processed in a timely manner, some wineries will run 12 hour shifts, others somewhere in between – at the end of the day every winemaker has their own plan of attack!
Smaller producers, and in our case, micro wineries are often without the luxury of structured shifts or hours. As purists, we are a slave to picking at the perfect time and getting things done at the perfect time - which is most often balancing fruit readiness, the weather forecast, availability of picking crews, and a free fermenter– At any point it can all come undone in a heartbeat from availability of trucks getting fruit from vineyards to the winery, a harvester breaking down, yields not running to forecast or a grower going away for a long weekend (yes, it does happen!).
The weather forecast is one of the most important elements. Other than the obvious influence on ripeness, it is looking at timing and balancing where a vine and fruit is now, where it will go based on weather expectations. For example, what may seem counter intuitive, sometimes we will irrigate slightly before rain to stop the vines panicking and sucking up every last drop in the soil which may in turn cause berry splitting. Equally we may try and get a pick in before rain or cool weather which may push back the vine and its fruit's ripeness and balance interms of sugar and flavour.
It may seem a challenging task, but I don't know a winemaker that doesn't love it. And then once in a lifetime (or at least the first in mine) you get a year like 2021. The Midas of picking seasons, and ones that dreams are made of. Quality was extraordinary by any standard, coupled with even ripening across blocks that was staggered between regions, varieties and sites ensuring we had the luxury of picking exactly how and when we wanted. Here's crossing everything for another one this year...and by all accounts, it's a pretty good start!
Here's to Vintage '22, cheers!

Contact Details
Don't forget to tell us if your contact details change - simply follow click here and email us and we'll do the rest!
Cheers!

If you or a friend is considering buying or selling real estate in the northern suburbs of Brisbane please consider Andrew King of Urban Nest at 0423 788 448 or andrew@urbannestrealty.com.au