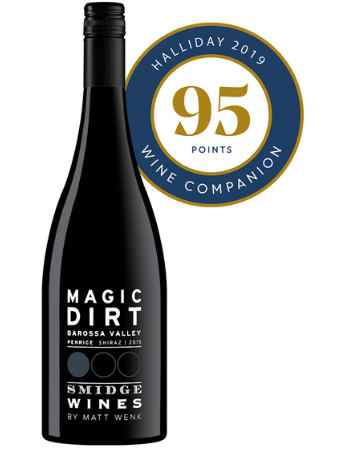 Magic Dirt Penrice Barossa Valley Shiraz 2015
Magic Dirt is one of Australia's most acclaimed wines and the pinnacle of the Smidge Wines range. Its name reflects one of the great secrets of great winemaking – the quality that the terroir brings to the wine. Each vintage is inspired by the sub-regional terroir of South Australia's wine regions with all vineyards selected trellised with a single cordon, single catch wire, and planted with the clone 1654.
"This isn't a best barrels series, it's a selection of the barrel from a particular vineyard that most truly reflects the terroir of the vineyard, here 40yo vines on a west-facing slope at 360m grown by six generations, matured in 3yo French barriques for 30 months. Exotic black fruits, spices, licorice aromas and flavours. A full-bodied wine of power and intensity, the tannins akin to built-in cupboards."
- James Halliday Wine Companion
Magic Dirt Penrice Barossa Valley Shiraz 2015 has been rated 95 points in the 2019 James Halliday Australian Wine Companion.
Magic Dirt Wines from Smidge Wines is available for sale exclusively direct from the winemaker online or at our Cellar Door.