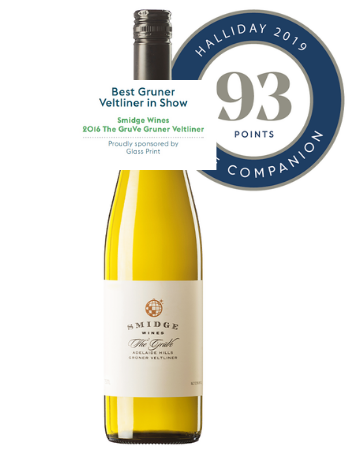 The GruVe Adelaide Hills Gruner Veltliner 2016
The GruVe from Smidge Wines was one of the first wines under the Smidge Label. The name comes from Matt and Trish finding their own 'groove' - dancing to the beat of their own drum.

With the 2016 vintage, although the season was dry and warm, the night time temperatures were often low, which maintained freshness and acidity in many varieties, including Grüner. A much-needed rain at the end of January freshened everything up and many varieties finished ripening well.

The 2016 GruVe has been made in a similar fashion to previous vintages, although unlike the 2015, it is dry. Whole bunch pressed, no acid addition, wild yeast fermentation and then 6 months on yeast lees. Bottled mid-October.
The GruVe Adelaide Hills Gruner Veltliner 2016 has been rated 93 points in the 2019 James Halliday Australian Wine Companion.
The White Labels Wines from Smidge Wines is available for sale exclusively direct from the winemaker online or at our Cellar Door.