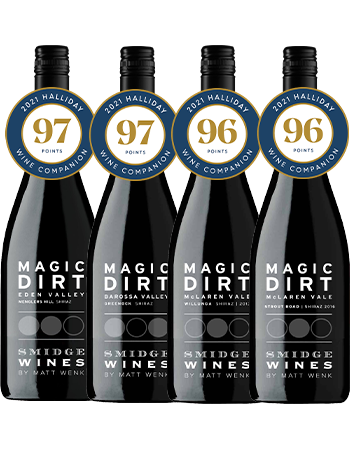 The Ultimate Magic Pack
The award-winning Magic Dirt is the star of the Smidge Wines range and reflects the "terroir" – a word that holistically brings together the soil, the sun, the wind, the rain, the slope, ultimately anything that influences a vine's specific growth habitats.
In this pack, you'll get a Magic Dirt from four unique subregions of South Australia – Greenock, in Barossa Valley, and from Eden Valley, Menglers Hill and from McLaren Vale, Willunga and Strout Road.
Each vineyard in the Magic Dirt range has been selected because they offer similar soils, are planted with the same Shiraz clone "1654" and the vines are trained on a single cordon trellis. This means that the variability is minimised, letting the subregional location of each block do the talking.
Plus we have an iconic S Shiraz, and the Rutherglen Grand Muscat.